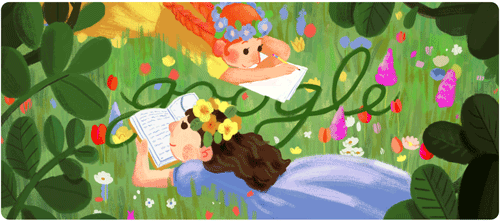 Riau JOS!* - Google Doodle, atau kalau di Indonesiakan tetap saja google doodle, hari ini, Senin, 30 November 2015, google menjadikan seorang penulis novel Lucy Maud menjadi gambar pembuka sebelum kita para pencari menggunakan jasa lubang dunia google mencari apapun yang ingin kita cari.
Lucy Maud adalah seorang penulis novel. Dia adalah kekasih sastra Kanada. Google Doodle merayakan penulis Kanada tercinta Lucy Maud Montgomery, kekuatan di balik Anne seri Green Gables, pada apa yang akan menjadi ulang tahun 141 sudah nya.
Montgomery lahir pada 30 November 1874, di Prince Edward Island, sebuah provinsi kecil di pantai timur Kanada.
Pada tahun 1905, Montgomery memimpikan seorang gadis bernama Anne yang tinggal di pulau rumahnya. Setelah beberapa tahun dari belanja buku di sekitar untuk penerbit, cerita protagonis berambut merah itu menjadi nasional, kemudian internasional, dan selanjutnya menjadi sensasional pada tahun 1908.
Ketenaran cepat diikuti untuk Montgomery. Dia menjadi kekasih sastra Kanada, memecahkan rekor sebagai wanita Kanada pertama yang diberi nama anggota dari British Royal Society of Arts. Dia juga ditunjuk Pejabat Orde dari Kerajaan Inggris.
Montgomery meninggal pada tahun 1942 di Toronto, tapi Anne of Green Gables, diterjemahkan ke dalam sekitar 20 bahasa, tetap menjadi pokok anak-anak dan fiksi dewasa muda.
Doodle olivia Huynh ini merayakan Montgomery dengan menggambarkan beberapa adegan Anne yang paling terkenal dari novel.
Bagi para pencinta ebooks, dapat mencari karyanya dalam bentuk digital, karena di era internet saat ini, untuk urusan ebooks, banyak yang sudah digratiskan, alias tinggal di download. Siapa tahu anda beruntung mendapatkan karya fenomenal punya Lucy.
Tapi kalau mau beli bukunya, silahkan cari ditoko buku, siapa tahu ketemu buku ini. Jika anda punya akun goodreads, anda dapat menyediakan waktu untuk menjadwalkan buku ini, dengan mencari buku karya lucy, kemudian ditandi sebagai books to read atau buku untuk dibaca selanjutnya.
Kalau sudah tak sabar, menunggu ada download ebooks gratis, silahkan saja buy books karya Lucy, yang penting anda punya uang untuk membeli, silahkan serching di internet, siapa tahu karena ada perayaan google doodle Lucy, bukunya jadi ajang promosi, dan tentu saja kita akan di untungkan dengan adanya promosi diskon khusus memperingati hari lahir Lucy si Penulis novel dari kanada ini.